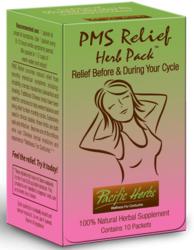 Los Angeles, California (PRWEB) June 29, 2013
Pacific Herbs founder Cathy Margolin announced the company's PMS Relief Herb Packs are a time-tested natural herbal alternative for women seeking drug-free relief of Post Menstrual Syndrome (PMS) symptoms, as concern mounts regarding news reports linking PMS medications possibly having long-term negative effects on women's delicate hormonal balance.
Margolin, a Diplomat of Oriental Medicine and Licensed Acupuncturist, is expert about Oriental herbs and author of "Stop Your Bitching… naturally! The Step By Step Guide to Balancing Your Hormones & End PMS & Menstrual Cramps." Margolin also writes about herbs for Huffington Post and other publications.
The Pacific Herbs founder said, "PMS Relief herb packs are based on a formula tested over centuries throughout Asia, where herbs are a popular, healthy means by which women maintain hormonal balance during menstrual cycles."
PMS Relief is effective for cramps, bloating, moodiness and aches during a woman's natural monthly cycles. Available in many retail stores and online at PacHerbs.com, PMS Relief is affordably-priced and offered in a 5-packet pouch for approximately $ 11.75, a 10-packet box at $ 21.45 or 20 packets at $ 37.50. "Women usually use 2 or 3 packets each month, one the day before their cycle begins and 1 or 2 as needed when their menstrual symptoms are most prevalent," said Margolin.
She added that, "Eating right, exercising, watching your weight, reducing your stress, getting enough sleep are sometimes not enough for women. While popular drug-based PMS pain relievers mask symptoms for a few hours, PMS Relief herbs work quickly to balance the body and help a woman feel better during both the menstruation phase and for the entire month. From personal experience and as mother of two girls now in college, I wanted to offer women a healthy natural alternative to relieve PMS and all menstrual symptoms."
The expert in Oriental herbal medicine suggests that in addition to using a product such as PMS Relief, women consider Margolin's Tips to Balance Hormones Naturally and reduce PMS:


    Choose meats such as chicken, beef or pork that are raised without hormones.
    Select organic milk, rBGH-free milk-without hormones.
    Take a supplement such as DIM to help the liver process estrogen.
    Add broccoli, brussel sprouts and cauliflower to reduce estrogen dominance.
    Drink filtered water to avoid hormones in our water and steer clear of BPA ridden plastic water. bottles which leach endocrine disrupting chemicals into your body.
    Use glass to microwave food, not plastic containers that also leach hormone-like chemicals into your food.
"Women who use birth control pills to alleviate PMS and menstrual symptoms should consider a recent Harvard Medical School study regarding increased risk of breast cancer among women using hormone replacement therapy (HRT) and birth control pills. Pacific Herbs' PMS Relief Herb Pack offers women a particularly welcome natural alternative," said Margolin.
"It's not only the physical symptoms of a woman's menstrual cycle but the emotional and psychological swings as well that require attention. Chinese herbs have been proven over centuries of use to help mood swings, irritability and other menstrual related symptoms," she added.
Pacific Herbs, based in Los Angeles, offers pharmaceutical-grade herbal formulas to medical professionals and consumers nationwide. All of its products are made from 100% natural, concentrated herbal granule form to avoid fillers commonly used in pills or capsules, and are usually mixed with water for a pleasant tasting tea or taken directly on the tongue and swallowed with water. Packaged in air and moisture sealed packets for freshness and shelf life of 4 years, in addition to PMS Relief, Pacific Herbs' herb pack products include Menopause Relief Herb Pack for natural relief of menopausal symptoms; Skinny Boost for gradual healthy weight loss, iSleep, a natural herbal drug-free alternative for restful sleep, Libido Boost for Him and Her for sexual health, and ginseng-based, sugar-free, caffeine-free Energy Booster.
Cathy Margolin, L.Ac. Dipl. OM is active in social media where she offers her expertise to help Americans and others about Oriental herbs, at her blog, PacHerbs.com/blog, and at Facebook.com/PacificHerbs, Twitter.com/PacHerbs and with a series of videos on YouTube.com/CathyMargolin. Media contact: BD(at)DobsonPR.com.
Question by ElevenBravo: Top three healthiest veggies?
As much as I try I cannot get my body to like veggies. I tried a veagan diet once for two weeks and it was the worst two weeks of my life. Anyway, I fully understand the health benefits of eating them so I'm asking what the top three veggies are so I can just make a simple disgusting shake and choke it down once a day. I don't have the money/time/patience to come up with these complicated recipes and actually make these vegatrian meals that require constant trips to the store. I just need something simple I can blend up and throw back. I'll servive the rest the time on semi-healthy food like grains, fruits and lean meats. Thanks for the input!
Best answer:
Answer by The bottom line
Kale
Swiss Chard
Broccoli / brussel sprouts
Add your own answer in the comments!